SMALL/MEDIUM Old School Series VSETKO UMIERA Engraved Solid Brass Knuckles - Style 4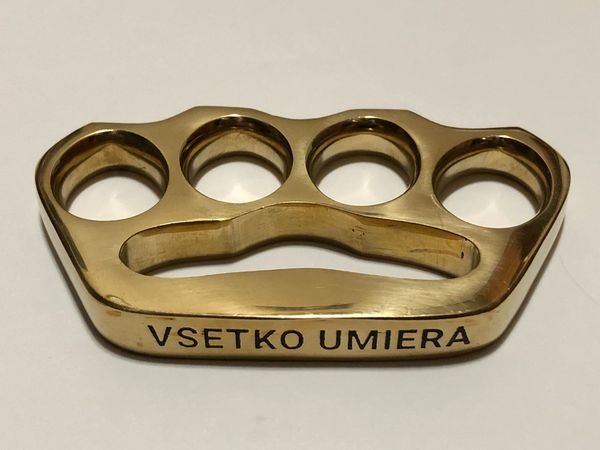 SMALL/MEDIUM Old School Series VSETKO UMIERA Engraved Solid Brass Knuckles - Style 4
**Please note these fit SMALL/MEDIUM hands, please refer to the dimensions listed below**

VSETKO UMIERA engraved 100% real solid brass knuckle paperweight. These limited editions are designed after the old school antique originals. They measure 4-1/4" by 2-1/2" by 3/8" thick and weigh 9 ounces. The holes are all approximately 3/4" in diameter. These make an awesome collectible piece, interesting display piece or paperweight. These are heavy, well-made pieces that will last a lifetime. 
**Sorry No International Shipping**
You must be at least 18 years old to purchase products on this website. Therealbrassknuckles.com, its employees or associated companies assume no responsibility for injury, damage or loss incurred by use of any merchandise sold on this website. Compliance with local, state and federal laws is the responsibility of the buyer. Purchase of merchandise from therealbrassknuckles.com implies agreement to the above statements by the buyer.